8.7

Rule 7: A ground plane under an IC reduces EMI

Figure 8.12: A ground plane directly under the IC reduces the height of the IC current loop above ground from

to

. This also reduces the
to
.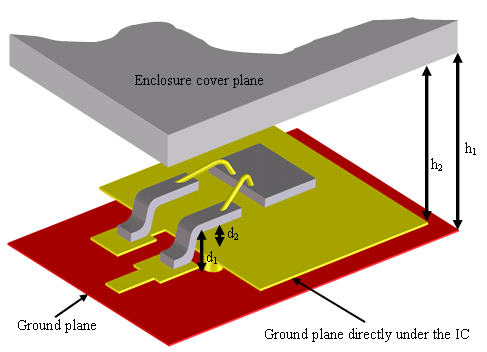 The coupling to the enclosure field is reduced by
(

8.14

)

With

and
the coupling reduction becomes
(

8.15

)
Table 8.1 contains some examples for the achieved common mode coupling reduction with a ground plane directly under the IC. High reduction can be obtained for IC packages with low seating heights and for PCBs with only one inner layer ground plane which has a significant distance from the component layers.
Table 8.1: Common mode coupling reduction from a ground plane under the IC.
C. Poschalko: The Simulation of Emission from Printed Circuit Boards under a Metallic Cover