Next: 9.3 Inverse Modeling of Up: 9. Inverse Modeling with Previous: 9.1.2 Evaluation of a


The practical application of simulation models over a longer period iteratively improves their quality. As semiconductor technology makes its progress the simulation models are also entering new ground. Although they are able to give some idea about the implications of a technological advance, the models will often predict physical quantities with poor numerical accuracy. Therefore, a re-calibration is necessary in some way. This, however, turns out to be extremely cumbersome in practice.

A re-calibration requires a calibration procedure which is based on all preexisting measurements and additionally includes latest measurements. Otherwise the accuracy for earlier technologies would deteriorate despite of the fact that the calibration starts with parameters that were appropriate for these technologies.

Figure 9.3 shows how a re-calibration can be implemented in a straight forward manner within SIESTA.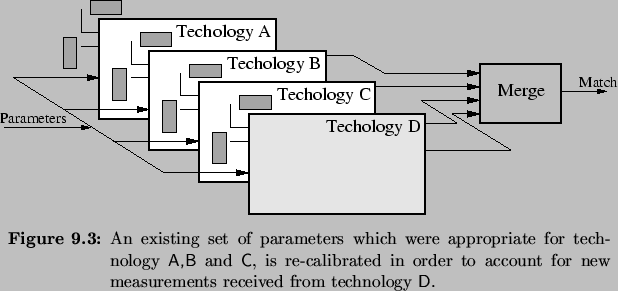 Assuming that technology A, B, and C have been the basis for an existing set of model parameters, the calibration system is extended by another model which evaluates the simulation accuracy for a new technology. Thus, a calibration which uses the extended model of Figure 9.3 also takes earlier measurements into account and it can be expected that the resulting sets of parameters are a lot better in terms of predictability, since they have been determined on a broader base of knowledge.
---



Next:
9.3 Inverse Modeling of
Up:
9. Inverse Modeling with
Previous:
9.1.2 Evaluation of a
Rudi Strasser
1999-05-27