Next: 2.3.1 Semiconductor Materials in Up: 2. Status of Research Previous: 2.2.2 MINIMOS-NT


Based on their electrical properties solids can be classified as conductors, insulators, and semiconductors. Amorphous solids have little or no regular geometric arrangement of their atoms in space, and therefore, cannot be easily studied. Crystalline solids have a perfect periodic arrangement of atoms, which allows them to be easily analyzed. Polycrystalline solids have atom arrangements between these two extremes. Semiconductor materials are nearly perfect crystalline solids with small amount of imperfections, such as impurity atoms, lattice vacancies, or dislocations, which are sometimes intentionally introduced to alter their electrical characteristics [71]. Fig. 2.1 is a summary of the chemical elements involved in the formation of semiconductors.

Figure 2.1: Part of the Periodic Table showing the elements involved in the formation of semiconductors: The elements considered in MINIMOS-NT are highlighted by red background.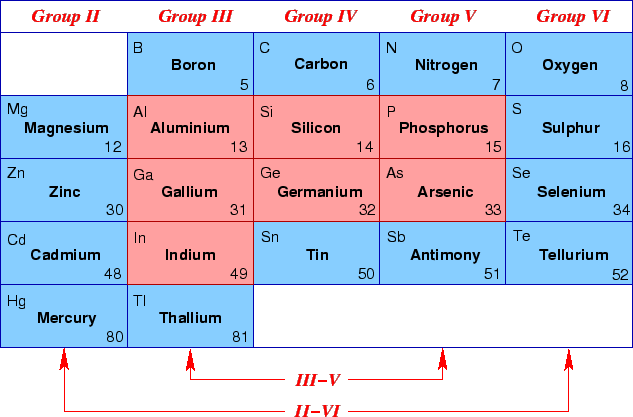 The semiconductors can be elemental, such as Si, Ge, and other chemical elements from group IV. They can be also compound, a combination between elements from group III and group V, or respectively, from group II and group VI. Examples for such combinations are the binary compounds Ga

As

and Zn

S

. There are also several combinations of practical importance, which involve two or more elements from the same chemical group. Such alloy semiconductors can be binary (e.g. Si

Ge

), ternary (e.g. Al

Ga

As

), quaternary (e.g. In

Ga

As

P

), and even pentanary (Ga

In

P

Sb

As

) materials.



---
Subsections
---




Next:
2.3.1 Semiconductor Materials in
Up:
2. Status of Research
Previous:
2.2.2 MINIMOS-NT
Vassil Palankovski
2001-02-28