Next:
4.1.2 Extended Small-Signal Equivalent
Up:
4.1.1 The Basic Model
Previous:
4.1.1.6 Contributions to
The bias dependence of

, especially on

, is closely related to the band gap and band gap discontinuity. As seen in Fig. 4.3 the overall maximum

value for a given gate length

increases as a function of decreasing channel band gap, which is related to a decreasing effective mass. The change of the bias dependence on

is related to two principal mechanisms: the increase in

leads to increased parasitic charge modulation represented by increased
in a simple capacitor model, and to reduced

. The tunneling probability of the carriers from the channel carrier confinement into the barrier drops with increasing band gap discontinuity, which explains this behavior.
Figure 4.3:

as a function of

for an InAlAs/InGaAs/InP HEMT, an AlGaAs/InGaAs/GaAs PHEMT and a AlGaN/GaN HEMT.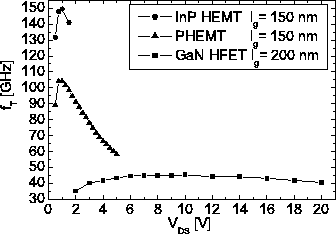 Figure 4.4:

as a function of

for several different AlGaAs/InGaAs/GaAs HEMT technologies.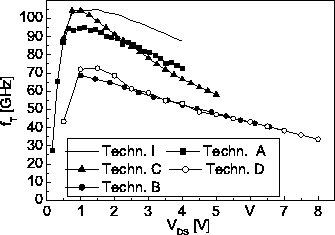 Second, even within one materials system, e.g. AlGaAs/InGaAs shown in Fig. 4.4, there is still a significant spread of the decrease of

depending on the different modifications of the layer structure and process influence. The quantitative physical factors related to this decrease are explained in Chapter 7.
---



Next:
4.1.2 Extended Small-Signal Equivalent
Up:
4.1.1 The Basic Model
Previous:
4.1.1.6 Contributions to
Quay
2001-12-21