Next: 5.1.2 Step Edge Cut Up: 5.1 Fabrication Techniques Previous: 5.1 Fabrication Techniques

  The shadow mask evaporation or `hanging resist system' which is shown in Fig. 5.1 was developed by T. Fulton and G. Dolan [35].


  

Figure 5.1: Shadow mask evaporation. Two metal depositions followed by an oxidation and a further metal deposition from a different angle form an overlap of two stripes; a tunnel junction.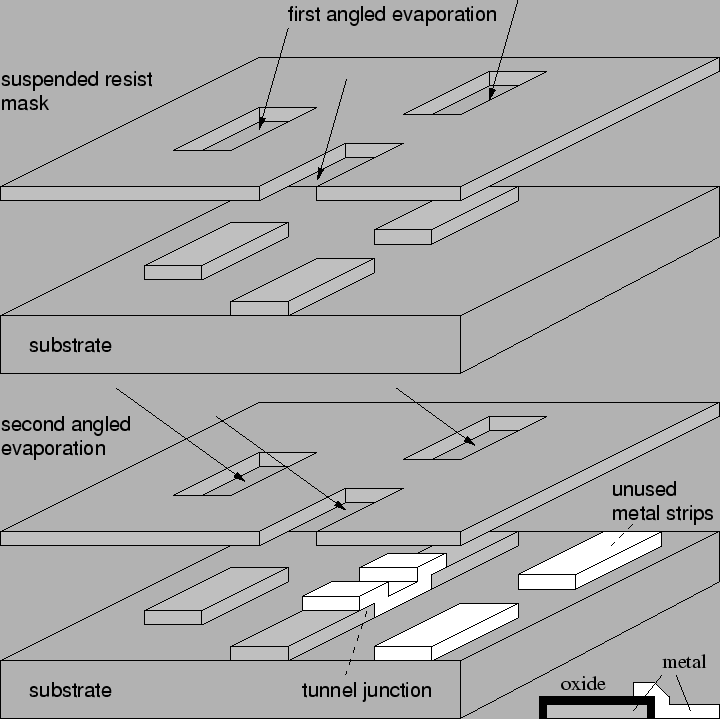 The junctions are fabricated by use of a lift-off stencil formed through electron-beam lithography. The suspended mask is a germanium layer deposited on top of a polymeric resist. Some of the underlying polymer is removed with the germanium resist coating, forming the overhang. After the first angled evaporation an oxidation step follows. Then the second evaporation with a different angle is done. Typical recorded junctions have an area of 30 nm

30 nm. The technique is well proven, and has been successfully used to fabricate a number of devices [39] [106]. The disadvantage is that it is an elaborate procedure with many steps and the position of unused stripes has to be well thought of to prevent their interference with existing tunnel junctions.
---




Next:
5.1.2 Step Edge Cut
Up:
5.1 Fabrication Techniques
Previous:
5.1 Fabrication Techniques
---
Christoph Wasshuber